Gaisan Technologies - Software for the business Community, Web Design, Graphic Design, Custom Software Development, VoIP, Mambo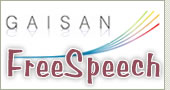 FreeSpeech© is a new Internet Telephony service available to business and residential customers throughout the south-east of Ireland.
Gaisan FreeSpeech© enables customers to use their existing broadband internet connections to make telephone calls and delivers substantial cost savings over standard fixed-line costs.
more info »
Gaisan Technologies - FreeSpeech VoIP Service - Voice over IP
Gaisan FreeSpeech is a way of making cheaper telephone calls using the Internet. The service is called FreeSpeech as calls to other Gaisan FreeSpeech subscribers are FREE. There's no catch.
FreeSpeech uses advanced VoIP technology to ensure excellent call quality even when your internet bandwidth varies.
FreeSpeech customers are provided with a special VoIP phone or gateway that enables them to make telephone calls over their Internet connection. The phones appear no different than standard business phones and they can be used to call any number, anywhere in the world. There is NO CATCH - call or complete our "FreeSpeech Requirements" form to get connected.
Benefits
Our customers, both business and residential, will enjoy the following benefits from the FreeSpeech service:
Cheaper calls! 40% reduction on national and local calls and over 90% reduction on International calls
Incredibly cheap international calls. We have to say it again as most customers don't believe they can call the UK for 2.5c a minute or their Aunt in Australia for under 5c/minute with NO MINIMUM CALL CHARGES
A local 051 number
Cheap and easy to upgrade if a new connection is required
Better utilisation of your broadband connection
Wireless or fixed handsets
Join the FreeSpeech revolution today
Connecting to the Gaisan's FreeSpeech network couldn't be easier. Just fill our "FreeSpeech Requirements" form and one of our FreeSpeech Sales teams will be in touch as soon as possible. For more information on VoIP and FreeSpeech see our "Questions & Answers" section.
Expertise
While the company is new, Gaisan Technologies founders have many years experience working with VOIP technology. They have implmented state-of-the-art VoIP solutions on major national and EU-funded projects. Gaisan enjoys a strategic alliance with Voice Ireland and Waterford Institute of Technology to help deliver the best in advanced and cost effective telephony to the South East of Ireland.