Gaisan Technologies - Software for the business Community, Web Design, Graphic Design, Custom Software Development, VoIP, Mambo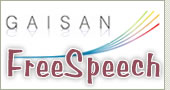 FreeSpeech© is a new Internet Telephony service available to business and residential customers throughout the south-east of Ireland.
Gaisan FreeSpeech© enables customers to use their existing broadband internet connections to make telephone calls and delivers substantial cost savings over standard fixed-line costs.
more info »
Gaisan Technologies - FreeSpeech VoIP Service - Your Questions Answered
Your Questions Answered
1. What is VoIP (Voice over IP)?
VoIP is a means of making phone calls using the Internet instead of the traditional circuits. The voice is changed into data packets and smoothly transmitted across the network. As a result of developments over the past years, the quality of the voice call is identical to that of our CPS service or legacy telephone operators, such as Eircom. Because the voice call is being transmitted over the Internet, it is considerably cheaper and the user will experience huge cost savings.
2. Are my VoIP calls secure?
Yes. - A secure Virtual Private Network (VPN) is set up between your network and our management centre which allows for very high level encryption of the data, making it extremely difficult for someone to "listen in" to the calls, unlike traditional phone services
3. Do I need to replace my existing phone system?
That depends on which option you want to take:
a) VoIP Voice
You may be added to the VoIP network immediately and your system can be upgraded as necessary. A gateway will ultimately be installed at your premises to allow the conversion of the voice call into data packets for transmission over the secure link to our management centre.
b) CPS Voice
No changes are required to your phone system to avail of this service.
4. What is CPS?
CPS (Carrier Pre-Select) allows the customer to opt to have their calls carried by another operator (such as Gaisan). Through Gaisan's strategic partnerships with International telephone network operators, we can offer a significant saving to our residential customers on their phone calls. Unlike indirect access or call by call, CPS does not require you to tap in an access code before the number you are calling, or to connect a dialler to route your calls. CPS means calls will automatically be routed through the Gaisan network for your direct dialled local and national calls, together with calls to mobile phones and international destinations.
5. Do my numbers change if I choose CPS?
No – you will keep your numbers and continue to make calls as usual.
6. Can I view my most recent VoIP calls made?
Yes - The previous three months worth of bills can be viewed by on to the "My Account" section. A search may be performed between dates specified by you. The details are shown over a secure encrypted SSL connection.
7. Can I block calls to mobile phones etc?
Yes you can. All you have to do is ask our customer service department and we will activate the necessary adjustment to your phone line. There is a charge of €2 per month to avail of this service.
8. What do I do if I have any other questions?
You can contact Gaisan Customer Care from 8 a.m. to 8 p.m. Monday to Friday FREE of charge using - 051 304224
9. Okay, I'm ready, how do I get Gaisan FreeSpeech
Simple, either fill out our online form, or get in touch with us directly. Either way we can have you office or home VoIP enabled in no time.