Gaisan Technologies - Software for the business Community, Web Design, Graphic Design, Custom Software Development, VoIP, Mambo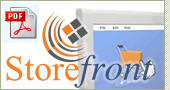 An eCommerce website acts as the online store front for the products and services you wish to sell.
Your website visitors are, for the most part simply 'window shoppers'. The purpose of any good eCommerce website is to convert these 'window shoppers' into 'buyers' and in turn convert these 'buyers' into continual repeat business.
more info »
The benefits of Content Management System - making your job easier
Take Control of your website
When it comes to your business - nobody knows it better than you. Right?
So when it comes to updating your business website why not do it yourself? I know it might sound complicated, but it doesn't have to be. With a Content Management System (CMS) in place - you control every aspect of your business website inluding layout, structure and content.
It's as simple as click, edit, publish - it's that easy!
What is a Content Management System?
A Content Management System provides multiple users with a faster, more practical solution for editing, managing and publishing their content online. Historically, website publishing has required significant technical skills (HTML, programming). Gaisan can integrate CMS features into any website, giving non-technical authors and editors the ability to quickly publish their content.
What are the benefits to me?
Typically a Content Management System is specifically designed with non-technical users in mind. Obvious advantages of deploying a CMS include:
Add custom content to your site on a regular basis (create, edit and publish)
Regular updates to your content ensure that you keep and even improve your ranking in the main search engines
Consistency of design is preserved
Built in editing tools, plus a spellchecker make editing web content as easy as editing a Word document
Add your own hyperlinks
Attach document for community and groupware collaboration features
Enhanced Productivity
The list is endless.
Why Gaisan?
When it comes to CMS developement and integration Gaisan Technologies are streets ahead. Some recent example of our CMS design efforts include:
If you think your business could benefit from deploying it's own CMS, then let us give you a free quote based on your specific requirements.