Gaisan Technologies - Software for the business Community, Web Design, Graphic Design, Custom Software Development, VoIP, Mambo
Storefront - affordable eCommerce solutions
How will my Business benefit from using Storefront?
In the early days of the Internet many corporations tried unsuccessfully to sell a diverse range of products online. The reasons for failure were often:
Poor or inadequate technology
Inadequate Customer Relationship Management
Inadequate reporting systems and order tracking
High setup costs and lack of standards
Now thanks to the huge success of sites such as online auction house E-Bay and retailer Amazon, it's accepted that you can sell almost anything over the web. Amazon sells thousands of cars to US customers ever year and bidders have acquired items as varied as a nuclear submarine and a Russian space shuttle through eBay.
Additionally eCommerce offers many advantages to the retailer.
Global Presence 24x7
Niche products can reach a wider market
Seamless integration with your bank using electronic funds transfer
Cost of sale is generally lower
Development maintenance and operational costs for eCOmmerce sites are getting lower. Many customers will be perfectly able to operate their own store once we've desgined
Increased responsiveness through instant control over your product catalogue
As the technology has advanced, a richer and more interactive experience can be provided for shoppers enabling them to immerse themselves in an online store in much the same way they would a high-street retailer. Gaisan's StoreFront provides such an experience. As part of your StoreFront package Gaisan will work with you to design a unique online store that reflects the image and requirements of your business. Your store can be customised with:
Detailed product information
Animated graphics
Product movies
Information about the store
Live news feeds
Product mailshots
Special offers
Customer loyalty & rewards schemes
and many other features
For a full list of available features and pricing models, choose from our Silver, Gold or Platinum packages.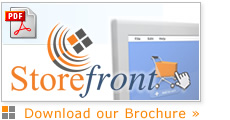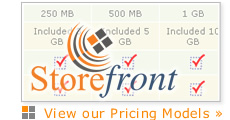 Gaisan's StoreFront provides an easy-to-use administration interface where store owners can edit their page layout and catalogues as if they were editing a document. Store owners that would prefer not to maintain their own store can opt for a 100% managed store where Gaisan will create and update your product catalogues and continuously finetune the marketing and pricing of your store based on your instructions
StoreFront integrates with all the major payment processing gateways such as Realex, Paypal and Worldpay to simplify payment.