Gaisan Technologies - Software for the business Community, Web Design, Graphic Design, Custom Software Development, VoIP, Mambo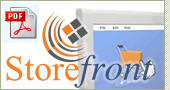 An eCommerce website acts as the online store front for the products and services you wish to sell.
Your website visitors are, for the most part simply 'window shoppers'. The purpose of any good eCommerce website is to convert these 'window shoppers' into 'buyers' and in turn convert these 'buyers' into continual repeat business.
more info »
Storefront - affordable eCommerce solutions
StoreFront integrates with all the major payment processing gateways such as Realex, Paypal and Worldpay to simplify payment.
Silver
Gold
Platinum
Storefront - Custom Designed eCommerce Store, custom graphics, SEO optimized, unique branding
Free development & maintenance hours per month (non transferrable - usual rate for Storefront customers: €35)
2
4
6
Secure Shopping Cart - SSL
Support for Real-time & Manual Payment Gateways - Realex
Hosting
FREE
FREE
FREE
E-mail Accounts
100
500
1000
Hard Disk Space
250 MB
500 MB
1 GB
Monthly transfer Limit GB
Included 3 GB
Included 5 GB
Included 10 GB
Dedicated IP address
Real-time UPS/FedEx/DHL/USPS Shipping Calculation
Custom Shipping Options
Custom Tax Tables - USA, Canada, VAT Compatible
Unlimited Product Database Size
Import/Export Products, Orders, Customers' Data
Email Support Support 9am-7pm
Multiple Currency Catalog
Tell-a-Friend Module
Daily Backup
Live Telephone Support Support 9am-7pm
Storefront Usage Statistics
Automtic Best Sellers Module
Wish List Module
Easy Newsletter and Bulk E-mail Management Features
Coupon/Order/Quantity Discount Modules
Affiliate Tracking Management
Comprehensive Reporting (Sales, Store Activity, Repeat Customers etc.)
Advanced Marketing Module
Year 1 Cost

€1499

Includes €399
one-time
setup fee

€1999

Includes €399
one-time
setup fee

€2499

Includes €399
one-time
setup fee

Each Subsequent Year

€700

€1000

€1200